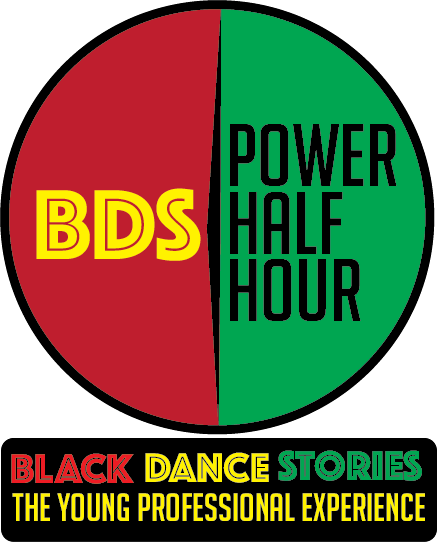 The Power Half-Hour series is a part of a new Black Dance Stories initiative—The Young Professionals' Experience—created to highlight emerging Black artists who are impacting the dance field. The series continues BDSs commitment to supporting Black creatives by pairing each artist with an established dance artist. In the spirit of community, the mentors will engage with the artists over six months. The 2021 season Power Half-Hour mentor-mentee pairings are Jawole Jo Zolar and Brooke Rucker; Zane Booker and Johnnie Mercer Cruise; Amy Hall-Garner and Cortney Taylor Key; and Abdel R. Salaam and Dre Drummond. Black Dance Stories' very own emerging creatives Makeda Smith (Director of Digital Media) and Makeda Roney (Director of Production) conceived and produced the new series and initiative.
---
Watch the first episode on Instagram Live Next Mon, Sep 27 at 12 pm EST
BDS Kiki - for young African American Dance Artists
"There are almost no live dance performances taking place right now. An invaluable part of these live performances are the conversations we emerging artists get to have with choreographers and artists, after a performance. Because of COVID, these conversations have stopped happening in this way. Thus! Black Dance Stories Kiki was born. I remember telling Charmaine and Kimani about how nerve-racking it can be to network after a performance. So we came together and thought of the Kiki. The artists that have been a part of Black Dance Stories come back and mentor these young emerging artists."
- Nicholas Hall (Founding Team Member)
By invitation only, BDS Kiki is an evening shared with seasoned artists and upstarts in the field of dance. For two hours, in two breakout sessions, young African American dance artists get to be up close, network, talk about their experiences, ask questions and envision their ideas openly in this safe space. BDS Kiki sessions are held approximately every three to four months.
BDS in universities - Course Description
The course meets once virtually and includes an hour with the BDS core team. In that hour we offer a warm up and discussions around the tacit beginnings of BDS, our creative format, and we view a chosen episode. The second hour will be spent with the guests from the chosen episode, guided by topics specific to their "Black Dance Stories," a breather (away from the computer), and finally a Q & A with the BDS team and the guests.
Bates College
"Bates College Dance invited the whole Black Dance Stories producing team to meet with our Dance History course this Fall and that visit informed the whole semester ahead. We began the semester discussing current events in Dance, made so visible in the Black Lives matter protests of the summer and the demands of the Dance community to take a deep look inside structural biases that continue to marginalize and harm Black and Indiginous and People of Color artists. Black Dance stories arrived so perfectly to uplift and broadcast the stories of Black artists as told by the artists themselves. The BDS team visited our History class along with two of the artists from one of the episodes assigned to our students. It was amazing to have them take charge of the class and draw the students into a lively discussion about the program and the artists. The student referred to this shared experience throughout the semester, quoting the day in papers and discussions. I would totally recommend bringing this team and these stories, as they are lived in this moment, into your classrooms."
- Carol Dilley, Chair, Department of Theater and Dance/Director of Dance
BRING BDS to your University/College